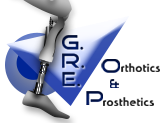 06/3/2020
Jonathan Naft
President, CPO
Geauga Rehabilitation Engineering, Inc.
13376 Ravenna Road
Chardon, OH. 44024
To Brian Gustin, CP:
Hey Brian, just wanted to send you this quick note to tell you how impressed I am with the Lower Limb Prosthetic Outcome program you put together. In all the years we did the AOPA Coding seminar together we talked about a way to really demonstrate the value of what we do for patients. I'm not at all surprised you came up with a simple and effective way to achieve this. Putting a program like this together just for GRE was daunting and way too expensive. When we looked at doing something on our own, we realized this was a full-time project and we really don't have the manpower resources necessary for this project.
When you explained what you had put together, I knew you were going down the right path. You made it simple for my staff and patients to participate without disrupting our daily routines. The dashboard of results with GRE patients compared to everyone else participating gives a good understanding of how we are doing. Needless to say, we have had some good discussions on how we can improve our internal systems to better serve our patients. We never would have known any of this without your program, many thanks for the impressive work.
Best Regards
Jonathan Naft, CPO President, Geauga Rehab. Engineering